Jellipop Match-Decorate your dream town!
7.1.3
Matching Game – Match Jellies and Renovate a Ruined Town
If you are a fan of matching games you are going to find this matching game to your liking. Jellipop Match – Decorate Your Dream Town is a fun game in which you have to rebuild a ruined town by showing off your matching skills. It transports you to a beautiful town that has been destroyed by evil witches. It is up to you to restore the town and all of its buildings to their former glory. You will have to select new furniture and decorations for each of the buildings and give them a new look. To do this, you will have to earn red and purple stars. These stars can be earned by completing match-3 levels. The red stars can be used for renovations while the purple ones for changing furniture designs.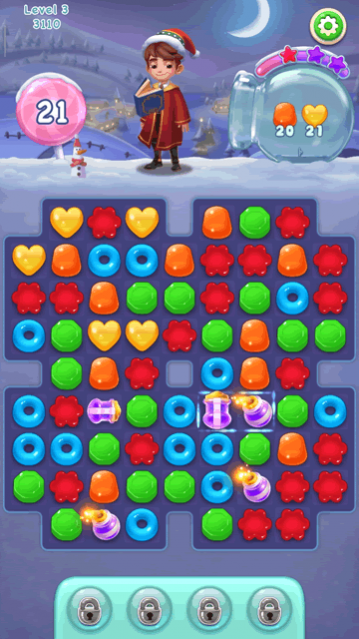 Jellipop Match – Decorate Your Dream Town has engaging gameplay that keeps you hooked from the moment you start playing. The beautiful graphics and animations of this matching game make playing it a joyful experience for one and all. As for the controls, they are similar to that of other matching games. You just need to swap jellies to perform matches of three or more of the same color. Matched jellies will be removed from the board and new ones are going to replace them. You will have to continue removing the jellies from the board until your goal has been achieved. Do keep in mind that there are a limited number of moves available for reaching your goal in each level. You can get 5 extra moves by spending gold bars.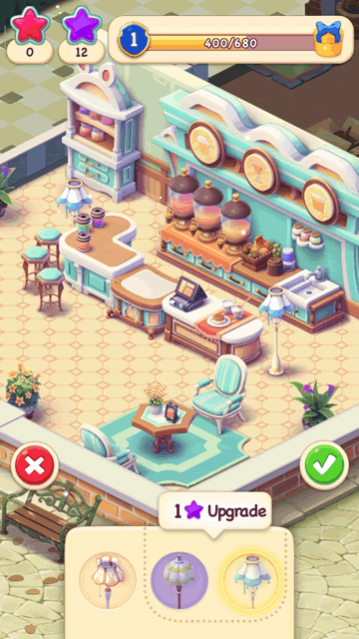 This matching game provides a variety of match-3 levels to you. Each one of them has a specific goal that you need to achieve if you want to complete it. For instance, some levels just need you to collect jellies of a particular color. Other levels need you to uncover and collect hidden tickets. There are some levels in which your goal is to collect spell books scattered throughout the board. No matter what the goal is, your task is to keep on matching the same-colored jellies. If you can match 4 or 5 jellies of the same color, you will get jelly bombs. These bombs can explode and remove several jellies from the board at once. You can combine the bombs to create even bigger explosions.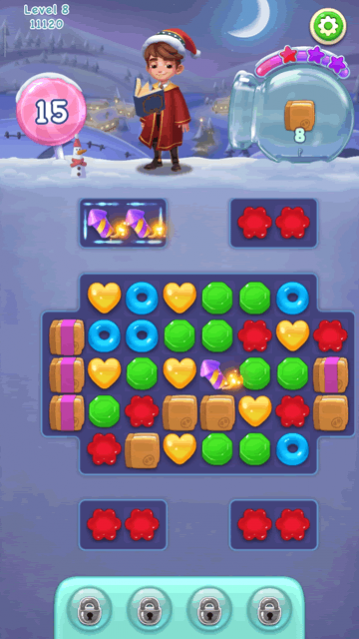 Jellipop Match – Decorate Your Dream Town has many different characters for you to meet. These characters are owners of shops within the town. They are going to need your help in renovating their shops and adding new furniture to them. You will be assigned quests by these characters and you will have to complete them by earning the red and purple stars. For clearing a level, you receive one red star and two purple stars. On completing the quests, you get special rewards too. There are various power-ups offered to you in this matching game for completing the hard levels.
Features:
Lots of match-3 levels to complete
Earn red and purple stars by completing levels
Renovate ruined buildings with red stars
Use purple stars to change furniture designs
Meet various interesting characters
Match 3 or more jellies to remove them
Create rockets and bombs by matching more jellies
Combine rockets and bombs to create explosions
A limited number of moves to complete levels
Various power-ups on offer
Select furniture and decoration items for each building
Conclusion:
Jellipop Match – Decorate Your Dream Town is a gaming app that is aimed towards people who have an interest in playing matching games. It provides them the chance to renovate the different buildings of a town that had been destroyed by witches by completing various match-3 levels. It is a matching game worth having on your phone for passing the time on long trips.
---
Add a review
Tell us your experience with
Jellipop Match-Decorate your dream town!
7.1.3
RELATED PROGRAMS
Our Recommendations
---
---
---
---